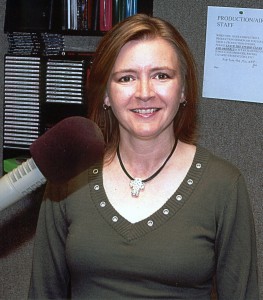 On the air:  Weekdays 10:00am – 3:00pm.  I'm also the webmaster.
Where I come from:  Leitchfield, KY
The stork dropped me off on:  March 23.  If you want to know what year, all I have to say is, "Didn't your mama teach you any manners?"
I really annoyed my teachers at:  Grayson County High School
Then they shipped me off to:  Western Kentucky University
Family:  I have a wonderful daughter, Natalie, who is 19 and is a chemical engineering student at University of Kentucky.
Favorite Singers:  Martina McBride, Trisha Yearwood, Easton Corbin, George Strait, Merle Haggard, Alan Jackson, Trace Adkins, Jake Owen, Luke Bryan
Favorite Groups:  Alabama, Lady Antebellum, Zac Brown Band, Montgomery Gentry, Restless Heart, KISS, Rush, Tannahill Weavers, Father Son & Friends
The best darned guitar players in the world:  Chet Atkins, Vince Gill, Brad Paisley, Steve Wariner, Lee Roy Parnell, Keith Urban, Jerry Reed, Ace Frehley
Favorite Food:  German, Indian, Chinese and of course, my Mama's fried chicken livers and pinto beans & cornbread!
Favorite Teams:  WKU, UK, the TN Titans
Favorite Actors & Actresses:  Harrison Ford, Johnny Depp, Mandy Patinkin, Kyra Sedgwick, Sandra Bullock, Katharine Hepburn, Forrest Whitaker
Favorite Movies:  Rob Roy, 50 First Dates, Lord of the Rings, Pirates of the Caribbean, Chronicles of Narnia, Scrooged, Groundhog Day, Die Hard, Last Of The Mohicans, The Libertine, Dangerous Liasons, Terminator 2 and ALL of the Lethal Weapon movies
Favorite TV Shows:  NCIS, Law & Order: SVU, Law & Order: Criminal Intent, Criminal Minds, Burn Notice, Dr. Who, South Park, CSI: Miami, Keeping Up Appearances, Flashpoint, Blue Bloods
Hobbies:  Photography, sewing & costuming, reading, historical re-enactment (middle ages and 18th century) and anything that has to do with powertools and computers!
Time at the Beaver:  I started on the 9am to noon shift in December 1997.  Has it really been that long?  Seems like yesterday…
The first place they were crazy enough to hire me:  The station I grew up listening to – WMTL-AM in Leitchfield, KY (1985) – and I'm proud of it!
Email me at shannonpresley@beaverfm.com
br>
br>

Share and Enjoy