Scooter Davis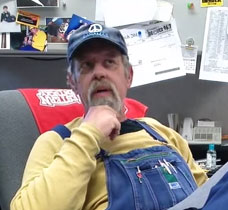 Born:  July 9 in Ft. Monmouth, New Jersey.  Can't you tell by the way I talk?  My family is from Bakersfield, California (home of Buck Owens and Merle Haggard).  I was raised for the most part in Oldham County, Kentucky, but I graduated with pride from Metcalfe County.
Hobbies:  Motorcycles…I have three in the garage right now.  And trains…in particular, narrow Gauge steam.  When I lived in Nashville, I used to run the train at Opryland as a hobby.  I also used to go to Jackson, Missouri almost every weekend and help run a steam engine.  I was a fireman and would shovel 2 1/2 to 3 tons of coal in a weekend…for a HOBBY!  I would ride my motorcycle over on Friday, sleep in a caboose and run the train on Saturday and Sunday.  What fun!  If you want to see my pictures, just ask.
Work:  In 1976 and 1977, I worked at what became the Beaver.  I went to Nashville and returned here in 1982, and I have been here ever since.  It seems strange to me to say I have worked here over half my life!
Best part of my job:  Getting to meet so many wonderful people.  I have been truly blessed.  If I have not met you, come out and see me sometime.
Pets:  Two dogs, Samantha (Beaver Dog) and Tipper.  Tipper is the freak of the family.  I got him when my son, Adam, was in high school.  He came home one day and said, "Look what I have." He had a little bitty puppy in his arms.  Being the stern and wise father, I told him we didn't need a dog and to take it back where he got it.  He threw the puppy across the room, so I had to catch it.  We still have Tipper!
Thanks for reading about me.  Have a great day and keep your button on the Beaver!
Email me at scooterdavis967@yahoo.com
Share and Enjoy