Welcome to Charter Senior Living of Bowling Green
At Charter Senior Living of Bowling Green, residents enjoy an active, engaging lifestyle that promotes wellness and independence. It is our goal to keep our residents linked to resources and opportunities that will fulfill their needs and interests in the Bowling Green area. Residents have many opportunities to participate in a variety of life enriching activities and events designed to stimulate the mind, body and soul.
Care giving comes in many different faces and services that work together to give the best possible care for each resident to feel loved and cherished! We are all CAREGIVERS at heart!
Our talented team of dedicated and caring staff are there when you need them. It can be different…let us show you how.
CHARTER SENIOR LIVING CONGRATULATES OUR EMPLOYEE OF THE MONTH – COURTNEY PENDLETON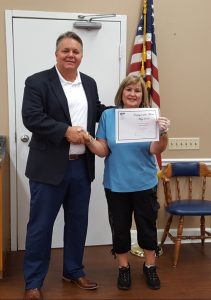 Charter Senior Living of Bowling Green is proud to recognize Aida Kurjak as Employee of the Month.  Aida has worked 3 years at Charter as an outstanding caregiver and medication aide.  She is a very loving mother and grandmother and is always eager to welcome visitors to Charter.
Congratulations Aida!   Thank you for dedication and compassion to others.
Community News
Life Lives Better at Charter Senior Living of Bowling Green
At Charter Senior Living of Bowling Green, involvement in the surrounding community is important to us. Each year our residents, their families, community members and our staff combine skills on a variety of projects, intergenerational programs, volunteering, and fundraising efforts creating partnerships that enhance the lives of everyone involved.
It can be different…let Charter Senior Living of Bowling Green show you how!
Assisted Living
CSL of Bowling Green is Family. Our mission is to provide a supportive environment that promotes safe independence, purpose, dignity, and health by enhancing the "Spirit" of our residents through social engagement of caregivers! Designed to provide a full spectrum of services that support healthy living, while maintaining your individuality. Whether short-term, following an illness or injury, or permanent, our assisted living program utilizes trained health care professionals to help determine your specific needs, and around the clock staff to provide the services when you need or want them – allowing you to devote your energies to a life well-lived!
Retirement Living
More than just maintenance free, at CSL of Bowling Green in Bowling Green retirement living comes to life! Our emphasis on exceptional well-being is evident in the options available to you and it's easy to live life to the fullest with our dedicated and talented staff ready to serve you. From innovative life enrichment programs that allow you to choose what you want to participate in, to a casual lunch with friends, to quiet time with a favorite book…without a doubt, discovering new things and making new friends is why many seek retirement living at CSL of Bowling Green. At the heart of it all, the healthy lifestyle you've been seeking.
Please contact us at 270-842-5433 for additional information or visit our website http://charterseniorlivingbowlinggreen.com/
You also find us on Facebook at https://www.facebook.com/Charter-Senior-Living-of-Bowling-Green-1709343185978852/
Share and Enjoy