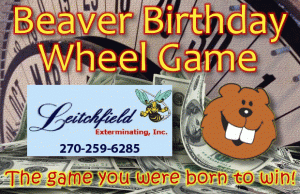 Got a birthday? Then you can win! The Big Money Beaver and Leitchfield Exterminating are giving away $100 every weekday with the Beaver Birthday Wheel Game! We spin the Beaver Birthday Wheel, and if it lands on the month and day of your birthday, be caller number seven to claim the cash! It's that easy!
Winning a hundred bucks won't bug you, will it? Of course not! And remember, when you call Leitchfield Exterminating with a problem, you won't bug them! Give them a call today… 270-259-6285…. or visit them online at www.leitchfieldext.com.

Must be 18 or older to play. For complete rules, visit www.beaverfm.com/2019/04/09/beaver-birthday-wheel-cash-giveaway-rules.
Listen for the wheel to spin, and get ready to win $100! The Beaver Birthday Wheel, exclusively from Leitchfield Exterminating and 96.7, the Big Money Beaver!
Share and Enjoy