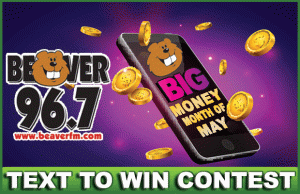 Celebrate the Big Money Month of May with the Beaver, and win big!
We're giving away $100 every weekday this month! We'll tell you the Big Money contest time each day, and when that time comes, we'll give you a special cash keyword. Text that keyword to the Beaver Text Line… 64636. If you send the 967th text, you win 100 bucks!
Plus, all members of the Beaver Text Club will have a chance to win the Grand Prize at the end of the month… $500!
To read the contest rules, visit www.beaverfm.com/2018/05/01/beavers-big-money-month-of-may-contest-rules.

It's the Big Money Month of May, with your chance to win every day, from 96.7, the Big Money Beaver!
Share and Enjoy