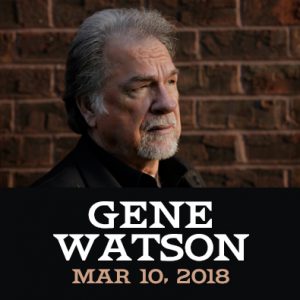 The Beaver is your concert connection, and we're bringing another legendary country artist to Bowling Green!
The Beaver 96.7 and Clay Campbell Productions present Gene Watson in concert, Saturday, March 10th at SkyPAC! Gene Watson racked up over 20 top ten hits in the '70s and '80s including "Love In The Hot Afternoon," "Fourteen Karat Mind," "Memories To Burn" and "Farewell Party."
Tickets are on sale now at the SKyPAC ticket office, and online at www.theskypac.com. Don't miss Gene Watson, March 10th in Bowling Green. Presented by Clay Campbell Productions and the Beaver 96.7!
More about Gene Watson
In 1962, Gene Watson began his professional career by recording his first single.
"I didn't know what I was doing," he chuckles, remembering himself as a 19-year-old.  "I think maybe I was dreaming a little bit.  Who knows what's going through your mind back then?  I was playing nightclubs here and there and decided it might be good if I could record a song."
"My first recording ever was on a little ole independent label that was started up just for this recording session, Sun Valley Records.  Maybe I thought I could sell them at my shows or something.  I wrote the record, 'If It Was That Easy.'  It was not any good, but, boy, I thought that was something.  I had my own record."
He might not have known what he was doing in 1962, but he does now.  Gene Watson has re-recorded his classic hits on an extraordinary, 25-song collection titled The Best of the Best.  His ageless voice sounds exactly as it did when he first recorded these songs in the 1970s and 1980s.  The legendary Sonny Garrish reprises the steel-guitar playing he performed during the original recording sessions, and the rest of the players recreate the original arrangements.
Share and Enjoy