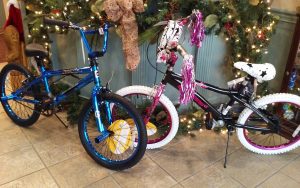 Do you know a child who would love to have a new bike for Christmas?
The Beaver is going to make Christmas wishes come true for two lucky children this year with the Scooter Davis Christmas Bike Giveaway! George and Logan Estes gave us one boy's bike and one girl's bike to give away for Christmas, in celebration of Scooter's caring spirit. Plus, Hughes and Coleman – Injury Lawyers have donated bike helmets to be given away with the bikes!
Complete the form below, and tell us about a young boy or girl who could use a new bicycle. It can be your own child, a grandchild, a neighbor or a student. We'll accept entries until Monday, December 18th, then announce the winners Tuesday, December 19th.
Celebrate the season of giving with the Beaver 96.7!

For complete contest rules, visit www.beaverfm.com/2017/12/05/contest-rules-scooter-davis-christmas-bike-giveaway/

Share and Enjoy