You Love to Cook!  And, Your are a pretty darn good  chef, when it comes to making up your own fantastic recipes! So turn all that talent into FREE FOOD brought to you by Williams Country Sausage and The Beaver! All you need to do to qualify is fill out the form below and upload your favorite recipe creation, using sausage products, bacon or brats.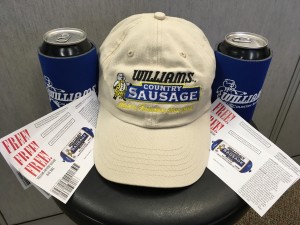 We will announce the winner of the Williams Country Prize Pack on air each Friday during the 9am hour. (includes (1) Williams Country Sausage hat, (2) Williams Sausage can koozies and (5) Free product coupons) You will be notified if you are the winner and your recipe will be posted on our Website and Facebook Page. We will keep the entries in a database, so no need to enter again each week. But, of course, if you have other creations you feel everyone will want to try, you may enter more recipes.
READ OUR PRIVACY STATEMENT & CONTEST RULES before entering.
Enter your information below and click Submit.
Unfortunately this form will not work with Internet Explorer, please use another browser; Safari, Firefox or Chrome are all supported. Thank you for your understanding.
Share and Enjoy