-No matter how many pictures and videos I've seen of TIM MCGRAW's workouts, I'm still blown away when he goes into detail, which he did yesterday on "The Doctors". Quote, "[Me and my] crew have a group mentality.
"We start in the morning around 11:00 in the gym and then in the amphitheaters we'll run the lawn, the stairs, and then do a CrossFit section for an hour and a half."
He also brings his own traveling gym. It has the usual barbells, dumbbells, exercise machines, and treadmills . . . but there are also weighted mallets, heavy ropes, and weighted shoulder harnesses that he carries on his back as he jogs.
As for why he does this is, he says, quote, "I want to be healthy. I want to be around. I want to see my kids fulfill their dreams."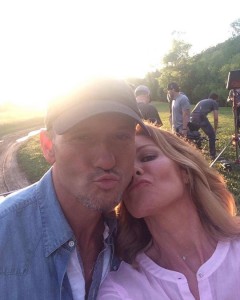 -Luke Bryan is taking his Farm Tour 2015 to several new cities this fall, which is adding a lot of anticipation to the trek as a whole. While planning which cities will host the Farm Tour, Luke calls on a "cast of characters" from his past to help him figure out where to play.
"It's kind old buddies of mine from the way back. I'll send them out with all these ideas for Farm Tour. We sit down, and we look at a map and I'm like 'What about Starkville?' Somebody drive to Starkville and find us a field."
Those buddies go out and find a farm field where Luke can play, but he has a feeling they're not scouting the entire time they're on the trip.
Luke adds with a laugh, "They call it a Farm Tour location scouting trip, but I think it's more of a 'five-minutes — look at a field,' and the other, then it's a fun trip for 'em, and then somehow I get the bill for it."
Chris Janson and Sam Hunt are on select dates of Luke's Farm Tour 2015, kicking off September 30 in Fort Wayne, Indiana.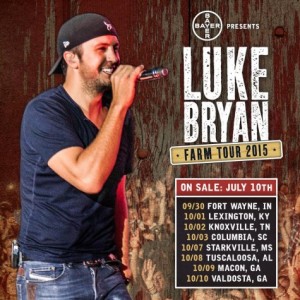 -MO PITNEY is engaged. He posted the news in a heartfelt message on Instagram, saying, "I couldn't be happier. I'm overflowing with thankfulness for the future Emily Pitney."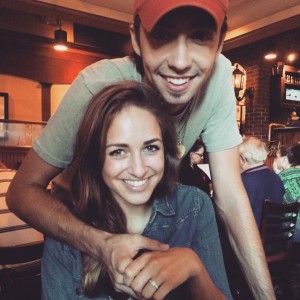 Share and Enjoy
Tags: